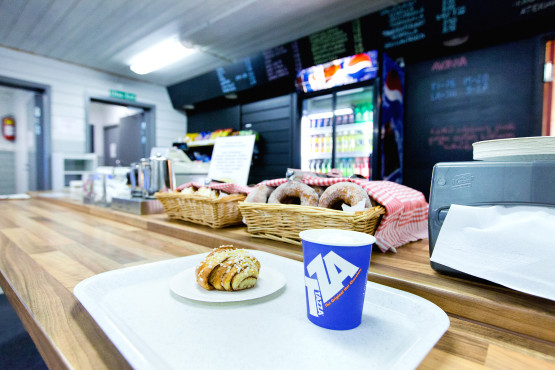 Café / Slope Restaurant
The café's services are provided by JALEKA Oy / Mustavaara Café. The warm and cozy café serves traditional, fresh locally baked donuts and buns.
For the bigger hunger, there are options ranging from burgers to pizza and kebab meals. It is possible to arrange lunch for groups on request.
The kitchen closes 30 minutes before the café closes. Take away is also an option. Orders from the checkout or from the café's own telephone number.
The café has a space for warming up and eating your own snacks, where you will find a microwave and a water point. Toilets can also be found in ​​the café building.
Café's phone number/take away: 046 900 6678
Café's office: 050 557 2027
Email: jaleka@jaleka.com
NOTE! The café closes at 18 on weekdays (the kitchen closes 30 minutes earlier). Please note that also toilets and space for warming up will be closed at 18. We don't ask covid passport.